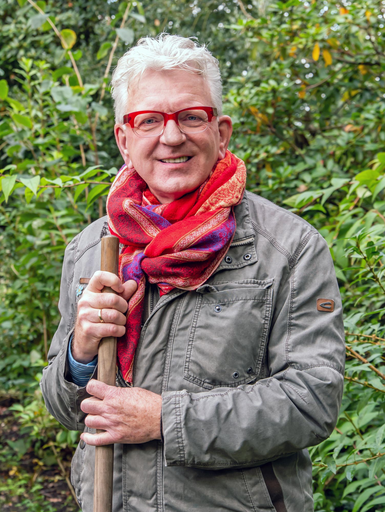 I am looking my entire life for ways to express my creativity. in addition to my former profession as a primary-school teacher, the theatre has played an important roll. Not only I played various characters in about thirty dramatic productions, but I have also made costumes, experimented with make-up and has written two musicals for children.
I express myself by experimenting with various materials, such as clay, gypsum, fabrics, painting in oils, etc. I had several exhibitions of my oil paintings in which the theme is the physical aspect of man.
But my great love is photography. Encouraged by my life-time companion Ton ter Linden, I took up professional photography in 1993 with some success. This has resulted in ten books, and various articles in Dutch publications as well as German/English magazines. My photographs have been used to print professional greeting cards and posters. I am contributor to Getty Images, New York and ChromaZone, Amsterdam.
Thanks to the stimulating criticism and appreciation of Ton ter Linden and our close friend Hanne Cannegieter, and inspired by artist Ralph Prins, the designer of several war monuments and posters for Amnesty International, I developed a personal style of photography. The modern photo panels are exhibited in several locations. I am proud of the awards that I won for my travel photography.
Photo: Herman Bouwens, Foto Kaldenbach, Simpelveld, The Netherlands